Remapping Landscape - Pal Piccolo 1886m
---
2016
Collage digitale
Lightbox
80 x 80 x 8 cm
-
2016
Digital Collage
Lightbox
80 x 80 x 8 cm



Opera realizzata in occasione della residenza artistica "Walking. Arte in cammino" che ha come spazio di espressione il territorio della Carnia (Friuli) e si propone di esplorare il tema del camminare (e dell'attraversare la natura, la montagna e le sue comunità) con l'esperienza e il linguaggio dell'arte. In questa prima edizione il tema specifico è La Grande Guerra e il sentiero di riferimento per gli artisti invitati è quello del Pal Piccolo nel Comune di Paluzza.
----------
Questo collage contiene centinaia di fotografie scattate da ogni possibile strada, percorso e sentiero che conduce alla cima del Pal Piccolo.
Confini e punti di vista si mescolano in un'unica composizione che non ha nessun legame spazio temporale con la realtà: ciò che sta davanti si trova dietro, ciò che è a valle sta sulla vetta, ciò che è in Austria si mescola con la parte italiana, le viste frontali si affiancano a quelle laterali e dall'alto.
Nel tentativo si sintetizzare la complessità del paesaggio questo quadro luminoso mette in gioco dinamiche di riconoscimento e disorientamento, famigliarità ed estraneità.
Lo sguardo si slega dalla necessità di riconoscere ciò che sta da una parte o dall'altra e di individuare un confine e, nella volontà di spingersi oltre, di andare alla deriva e a perdita d'occhio, testimonia che l'unico vero limite è quello del visibile.

---
Artwork realized in occasion of the artist residency "Walking/ Art on the way", which spans over the whole territory of Carnia (Friuli) as working space of expression and aims at exploring the theme of walking (and of traversing nature, mountains and their communities) through the artistic experience and language. The Great War is the selected theme for this first edition and Pal Piccolo, in the municipality of Paluzza, is the reference path for the invited artists.
----------
It's a collage made up of hundreds of photographs shot from every possible street, way and path leading to the peak of Mt. Pal Piccolo.
Borders and points of view become one single unit that has no space-time connection to reality: which stands in front of us actually lies behind, what looks downstream is up, Austrian and Italian territory appear as one, and frontal views are complemented with side and aerial panoramas.
In the effort of trying to synthetize the complexity of the landscape, this luminous panel brings into play recognition/disorientation and familiarity/strangeness dynamics.
The look is freed from the necessity of recognizing what is on one side or the other and of identifying a border and thus, in its willingness to go further, to drift away and as far as the eye can see, it proves that the only real limit is that of the visible.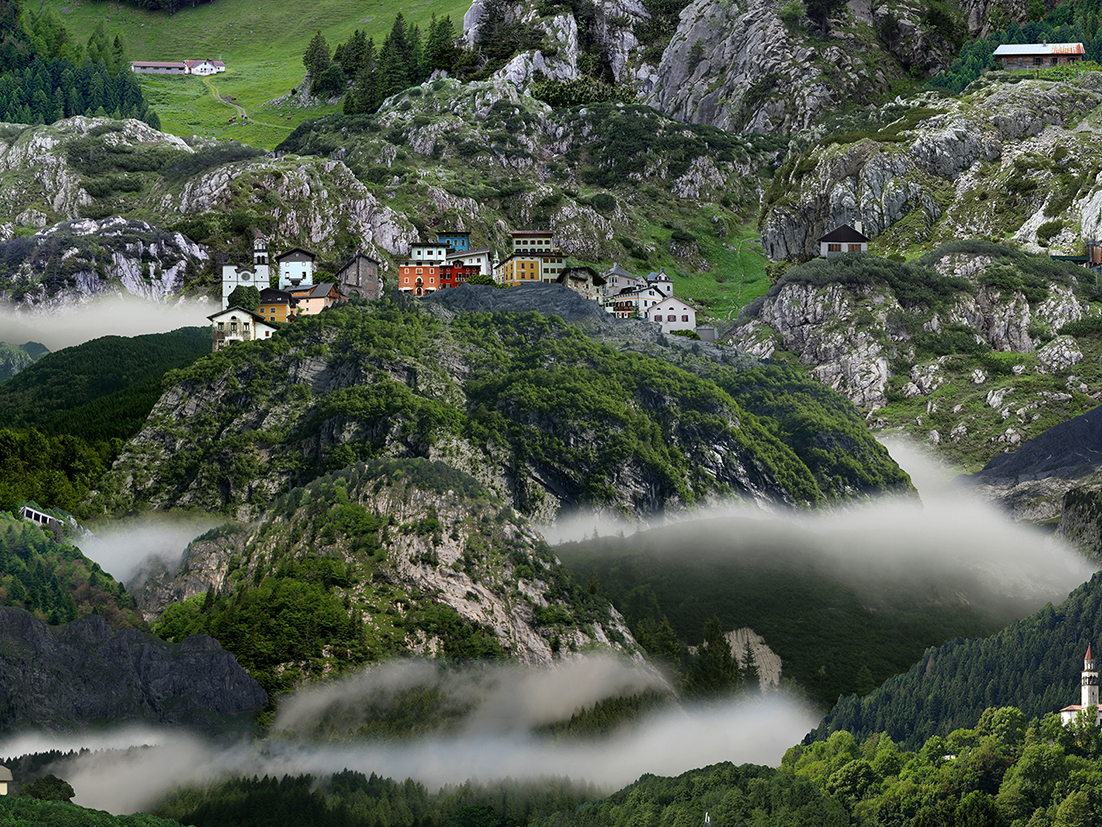 Remapping Landscape - Pal Piccolo 1886m - dettaglio / detail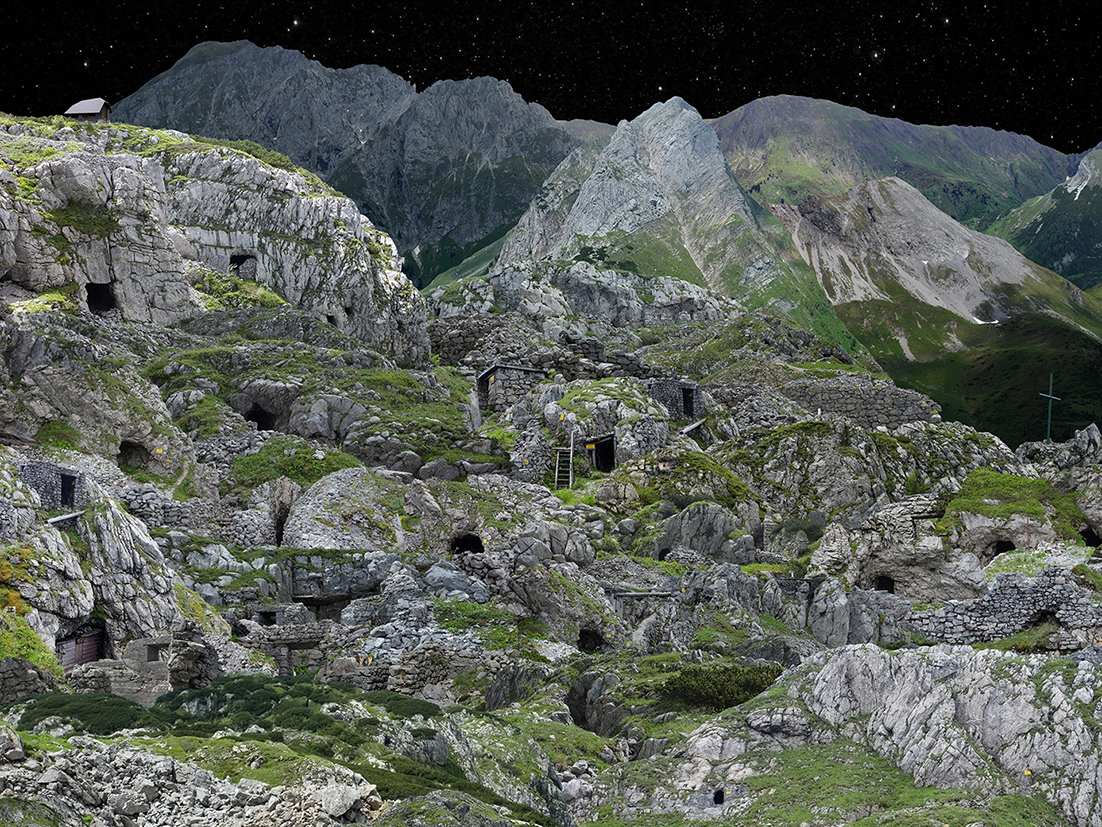 Remapping Landscape - Pal Piccolo 1886m - dettaglio / detail



Remapping Landscape - Pal Piccolo 1886m - dettaglio / detail



Remapping Landscape - Pal Piccolo 1886m - dettaglio / detail



Remapping Landscape - Pal Piccolo 1886m - dettaglio / detail



Remapping Landscape - Vista dell'installazione / Installation View - Torre Reytembergher, Tolmezzo (FVG) - IT / detail


PH ©Alessandro Speccher